www.musto.com

Our Story
Your adventure is MUSTO's challenge. We engineer technical clothing to help you perform at your peak.
Built on 50 years of engineering cutting-edge performance apparel, we are the world's leading offshore sailing brand and a British leader in shooting and equestrian sports. We use the same fabric technology that protects our ocean racers to keep you dry and comfortable in the Country and multi-sport Evolution ranges.
Our designers are fanatical about detail and style. From the precise placement of ergonomic panels on active jackets to the careful crafting of the handmade leather shoes, this is where style meets hi-tech performance. We only work with the best manufacturers so you can be assured of MUSTO quality every time.
We are British from the beginning, but our clothes, footwear, luggage and accessories are designed with an international outlook so you can be active in all climates, on all terrains, anywhere in the world. From leisurely weekends in the country to battling storms in the Southern Ocean, MUSTO performs so you can too.
Our mission is to equip you, your team and your family for every adventure. We test our products to the extreme in the world's most hostile environments, and in the labs, to drive innovation so you can trust our products to perform and endure. People often tell us of their twenty-plus-year-old MUSTO garments that have been used incessantly and are still performing well. Our famous durability is why we offer a guarantee for the lifetime of many of our garments as well as an exceptional repairs service.
Discover exceptional performance: technical clothing, innovative footwear, durable luggage and engineered accessories, all designed for your adventures.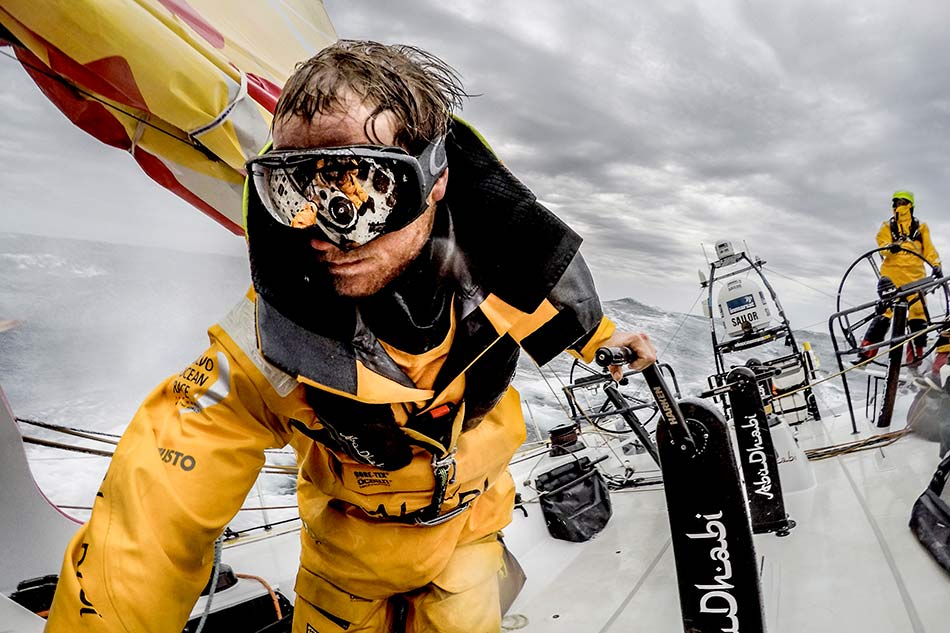 How it all started
Keith Musto arrived in Tokyo as an unlikely choice for the British Olympic sailing squad of 1964. He was too light and short for the heavyweight Flying Dutchman boat he was competing in. Keith and his crew, Tony Morgan, quickly realised that their only chance of winning gold was to be fitter than their opponents. So they did the unthinkable. Every day, Christmas included, they did fitness training. Fellow competitors derided their training as unsporting, but a new breed of sailors was emerging. They were athletes.
Keith Musto recalls, "We sailed in Guernsey sweaters and old flannel trousers for years. You got wet and you accepted it. But, as we progressed up the ladder in terms of competition, we realised that this was a problem that needed to be solved." So, after taking the sailing world by storm and winning silver in Tokyo (missing out on gold by 'nanoseconds'), he set about producing ground-breaking technical sailing apparel.
An old WWII prisoner of war hut in Essex served as the beginning of everything. Keith started out making sails with Edward Hyde under Musto & Hyde Sails. But Keith soon shifted his focus to constructing technical sailing clothing. He quickly taught himself all the basics of manufacturing clothes, paying his wife with a Mars bar a day to machine and do all of the typing. Money was tight.
Then in 1980, Keith split from Musto & Hyde. His team quickly became the technical manufacturer and wholesaler of the best sailing kit available. It was specialist clothing worn and endorsed by the world's most celebrated sailors. The red silhouette of Keith's Olympic Flying Dutchman boat was emblazoned on the sailing apparel and it became a recognised mark of excellence. MUSTO was born.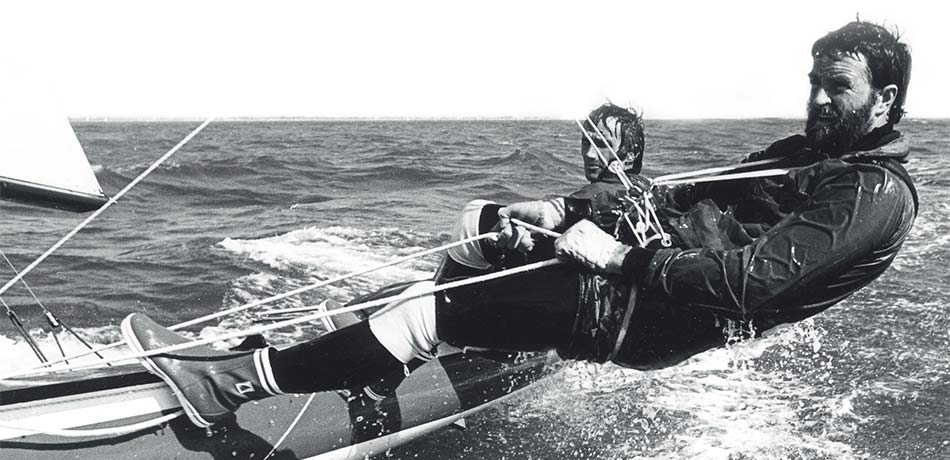 Beyond our heritage
But we didn't stop at sailing. Keith quickly realized that the sailing fabric technology could be applied to other sports when he was the only dry spectator watching his daughter ride. He was in his MUSTO sailing kit – a little out of place in the equestrian scene. Then, when Nigel Musto, Keith's son, took up shooting, this opened up yet another opportunity for expansion. Today, we fuse performance fabrics with the timeless traditions and styles of equestrian and shooting sports and have become leaders in British country sporting wear.

Having proven our expertise in technical apparel over more than 50 years, we launched the Evolution range. You are travellers, runners, hikers and weekend adventurers. You want your jacket to transition with you from your weekend sailing the coastline to your morning run. And that's what MUSTO Evolution does. We have evolved to meet your performance demands. Multipurpose, multi-terrain, all-sport technical apparel, Evolution is engineered with the comfort, warmth and weather protection we always demand of our designs.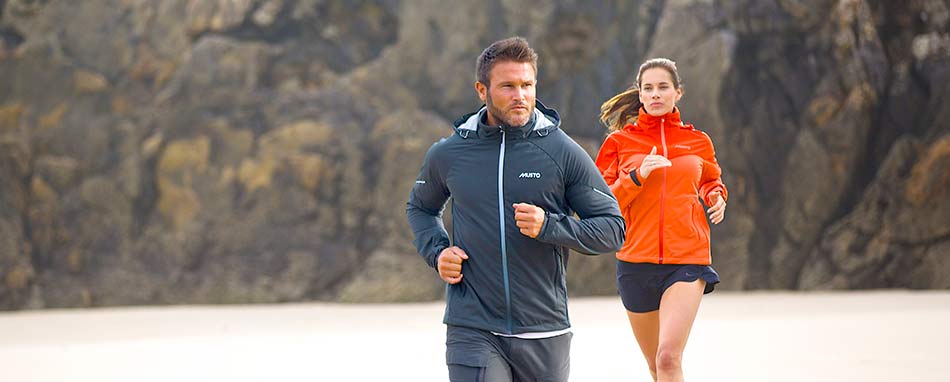 Innovating from the start
Layering up
The best stay ahead of the competition. That is exactly what we at MUSTO did, and still do. We spread the concept a 3-layer system by word of mouth for years before people caught on to the incredible idea of layering up in thin layers for warmth, protection and freedom of movement. We knew there was a better way to stay warm than just wearing thicker, heavier layers. The idea took off in a Whitebread Round the World Race when adventurous sailor Cornelis van Rietschoten put it to the test in the Southern Ocean to wick away sweat. Now, layering is standard across all outdoor pursuits.
Life-saver
As sailing technology advanced, races became more extreme, more daring, and more dangerous. After tragic accidents in the Whitbread Round the World Race – the world's toughest sailing race (now the Volvo Ocean Race) – the race managers approached MUSTO in 1990 to invent a new drysuit. It had to extended survival times from 15 minutes to 2 hours in the world's coldest waters so a man overboard could be successfully rescued.
In 1992, famous sailor Skip Novak put his life in our hands and tested the new MUSTO Drysuit prototype by swimming in the icy waters of Antarctica. Keith Musto recalled, "It was a real success, but when Skip tried to climb out of the water, he opened the neck seal to let some air out and give him more manoeuvrability. He nearly froze because neither he nor we realised the air was crucial in giving him insulation." So, a tube was added to the design to enable the wearer to blow air into the drysuit when required. Today, our drysuits provide survival times of up to 3 hours in waters as cold as 5癈.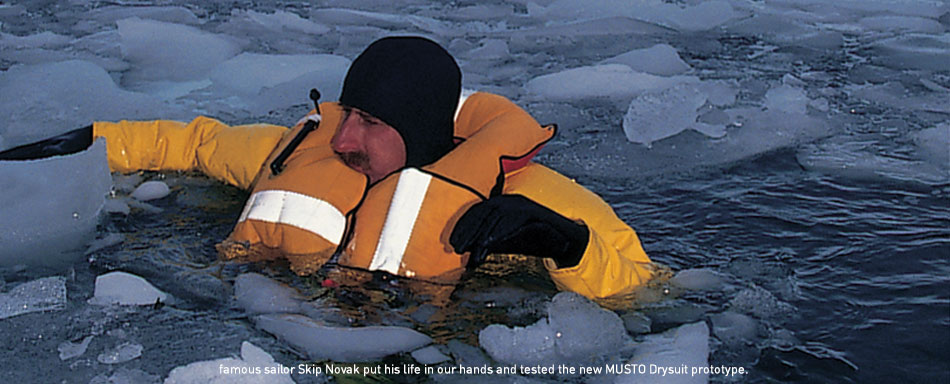 Specialist fabrics
To equip you for your biggest adventures, we need to use technical fabrics of the highest performance standards. So, our designers and developers work with many of the world's best technical fabric manufacturers, and we have partnered with several to develop new specialist fabrics.
In 1994, MUSTO teamed up with W.L. Gore – like-minded innovators and the manufacturers of the ultimate waterproof fabrics. The challenge: to create a breathable and waterproof fabric tough enough to endure the rigours and brutal weather of ocean sailing. Together, we created an extra tough GORE-TEX?Pro membrane. This forms the core of our famous MUSTO HPX range that is tested on the oceans. Now refined over more than 20 years, MUSTO HPX kit is the world's leading ocean sailing apparel. We go to every length to design kit that protects you in all conditions.
Today, MUSTO is synonymous with the world's best sailing, equestrian and shooting clothing. It has been endorsed with two royal warrants, used in every round-the-world Whitbread Race, now the Volvo Ocean Race, since 1981, and is the choice protective gear of the RNLI. You can find MUSTO technical apparel in stores around the world and we ship from musto.com to 40 countries.
Our People
To date, we have clothed Olympians and professional athletes, royalty and record breakers. And, we want to clothe you, your team and your family. We are a community of athletes, sports people and weekend adventurers who share a passion for the freedom, sounds and exhilaration of the outdoors. We want to live life to the full.
We work with people who share our passions to test and drive innovation in our kit. These people have included world-renowned sailors Skip Novak, Grant Dalton and Ellen McArthur among others. Riders Zara Phillips and William Fox-Pitt have been part of MUSTO for years and Zara has even developed her own equestrian range with us.