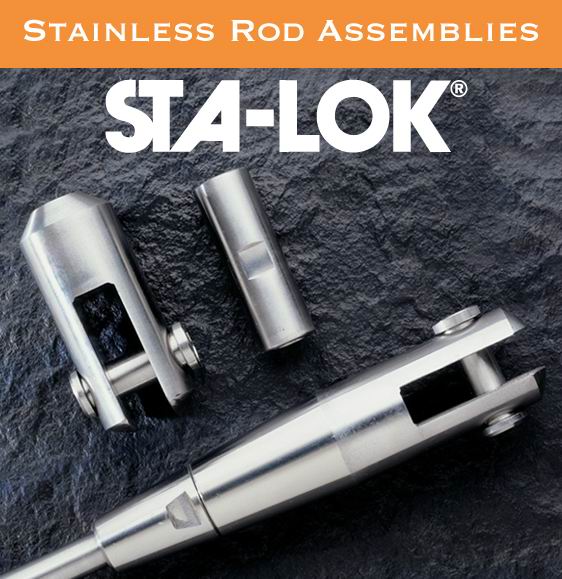 History 关于Sta-lok
Sta-Lok 公司由 Ivor Barfield 于1983年创建,专业生产不锈钢索具,公司位于英格兰东南部的艾塞克斯,至今依然是个家庭经营的企业。
凭借其40年的行业经验,如今的Sta-Lok 无论在设计、制造和供应用于航海和建筑行业的高质量不锈钢索具,都是世界的佼佼者,许多Sta-lok 的产品规格都成为了行业默认的标准。同时,Sta-lok 仍然不断追求创新,根据客户的需求不断改善产品。
Founded by Ivor Barfield, the Sta-Lok self fit terminal was first introduced at the London International Boat Show in 1973. Becoming incorporated in 1983, Sta-Lok Terminal Limited operates from Mistley / Manningtree in Essex and is still a family run business.
With over 40 years of experience, Essex based Sta-Lok Terminals Limited is a world leader in the design, manufacture and supply of high quality fittings for stainless steel wire rope and rod systems for marine and architectural applications.
We guarantee quality and reliability for all our products including fittings, custom manufactured items and complete stainless steel and rod systems.
As the inventors of the Sta-Lok self-fit compression wire rope terminal, many of our products boast original design features and benefits that have become the industry standard. We continue to innovate and improve our products in response to our customers feedback.
Our Products 产品
At Sta-Lok Terminals we manufacture and stock a wide range of stainless steel products including:
Sta-Lok, Swageless Self Fit Terminals.
Chrome Bronze and Stainless Steel Turnbuckles, Rigging Screws and Bottle Screws.
Swage Terminals.
Stainless steel Wire Ropes.
Tie Rod and Tie Bar systems.
Extensive range of Cable Systems to suit many applications.
Distinguished boats builders we have supplied include 合作船厂包括:
Bluewater
Discovery
Fairline
Northshore
Rival Bowman
Rustler
Sunseeker
Westerly
Distinguished architects' projects we've supplied to 参与的建筑工程:
Michael Hopkins
Richard Rogers Partnership
Sir Norman Foster